Adventure Motorcycle Travel Bookshop
Thanks very much for arriving at the Book Shop page. Here you can order paperback copies of my books, audio books in MP3 format on CD (your audio equipment must be MP3 compatible), and T-shirts. Just scroll on down.


You'll also find the links to order downloadable copies of the Into Africa, Under Asian Skies, and Distant Suns audio books. Thanks very much.


Into Africa Audio Book
The audio book of 'Into Africa', narrated by Sam, is available to buy from the following retailers. Simply click the logo of your choice to purchase and download your copy: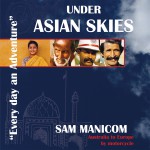 Under Asian Skies Audio Book
The audio book of 'Under Asian Skies', narrated by Sam, is available to buy from the following retailers. Simply click the logo of your choice to purchase and download your copy: