Tortillas To Totems – Excerpts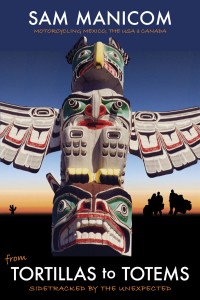 How To Order
In the UK? Click here to order a signed copy direct from Sam.
---
The uneven, oil-stained forecourt was time and weather worn, and the pumps looked as if they belonged in the props office of a Hollywood film studio. The pump had clunked and whirred irregularly as petrol sploshed with surprising speed into my tank. The white arm of the gauge had jerked in stages around the crescent moon-shaped dial, and the attendant's eyes had opened wide as litre after litre had flowed into my 43-litre tank.
This small Indian man wore beige overalls that looked as if they hadn't been washed for a decade, and he had a jaded look to his face which implied that he wasn't surprised by many things. His deeply lined skin gave me the feeling that he'd seen a lot in his life, but never a bike with a tank that could drink so much fuel. Watching him, I was conscious that he was one of the last people I'd speak to in Guatemala…
---
Suddenly, there it was – the border. A straggle of dust-stained and water-marked concrete buildings lined both sides of the road. The mood around us changed with those last few hundred metres. Life swirled in a mash of overloaded trucks, people dashing to get their work done before the day's full heat hit, and the inevitable queues of others, as anxious and as confused by it all as we were. Stray dogs hung around, and greasy- looking overweight unshaven men sat in rickety old chairs in front of seedy bars and restaurants. Pack donkeys and running children added to the mix, and scrawny chickens darted among the feet and the truck tyres – all looking as if they were on the run; escapees from the lunch table, or from the cock-fighting pits?…
---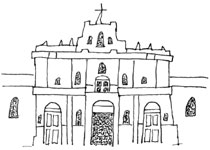 We stopped for the night in the lovely old town of San Cristobal de las Casas. It felt like a fine halfway house between Guatemala and Mexico. It's tucked up in the highlands and the grid-patterned streets were lined with old Spanish-style colonial houses. The church was painted a crisp white and trimmed with a vivid bright yellow. The houses were painted an amazing variety of colours and the green of the pine-clad mountains finished off the effect to leave you with the feeling that you were riding onto an artist's paint palette…
---
The next hassle of the road was a never-ending stream of police checkpoints. Mexican cops have six-shooters on their hips and they all seemed to walk as if they'd been brought up on Westerns and Gangster movies. The swagger and the shades were both always present. They were abrupt and aggressive in their language too. After a while Birgit began to boil at the way they treated us, but thankfully she kept her feelings locked up. She can be really sharp when she gets totally ticked off…
---
We put our tent up under the broad branches of a tree whose leaves reminded me of fig leaves, swatted away an air force of mosquitoes and fell asleep to the crackling sounds of the open fire by the ramshackle bar. Music played gently in the background and voices murmured quietly around us. During the night an enormous thunderstorm battered the area. Thunder shook through the humid air with a force that felt as if we were trying to sleep inside a base drum. Lightning sent huge streaks of jagged flashes across the sky and even under the trees. The inside of our tent was completely lit up. The flashes were so frequent that it looked as if the world around us was being strobed. If the flashes had been constant we could easily have read by their light. Rain hammered down…
---
That night we found a gem of a camping spot. It was one of those places that you dream about. Tucked away down a long gravel road, the tiny campsite nestled on the shores of a small blue lake. The owner rushed out to greet us. I liked him straight away. He was a small, brown, round and cheerful man with thinning hair. He was shaking our hands even before we could get our gloves off. He showed us to a prime spot right by the shore, and then where the showers were. He was very proud of the fact that they had hot water. He'd rigged up a series of oil drums, suspended over a long fire pit. He told us that at 6pm each day he'd light the fire under the barrels and the water took about half an hour to heat to, "A very good temperature." He was right too. It was blissful and there was something rather fine about showering in a wilderness under water that had been heated in this way. The wooden stalls were only as high as my shoulders and that night we showered to the sight of the sun going down. It fell as a perfectly round orange-red ball until it disappeared behind the forested hills. As a sort of final dash of defiance, the sky suddenly turned a flaming orange which turned the hills into a stark black silhouette. The only sounds came from the rushing shower water and the call of a bird down by the shore. The contrast to the city couldn't have been more profound, and that night we were treated to a sky so full of stars that it looked as if someone had tipped over a pirate's treasure chest…
---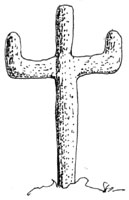 Walking out into the vastness of this cacti-strewn land is like stepping out into a giant's rock garden. Tall spiky shapes surround you, and pale green ground cover succulents and clumpy scrub block your way, forcing you to meander across the garden in an apparently aimless and random zigzag. The sun becomes your friend and your guide; it would be easy to get lost out there. One hill looks much the same as the next and though each cactus bears resemblance to the next, each has its own characteristics and each has been formed as a result of where it has found itself to be living. A large boulder might push it leaning crazily in one direction, or a particularly shallow stretch of soil may have stunted its growth. Strange rustlings emerge from the deep shadows beneath the scrub, reminding you that you are not the only ones passing through the giant's rock garden. This is also the home of lizards, spiders and snakes…
---
North American supermarkets were a childish adventure for us. We were like kids in a toy store at Christmas. For the last couple of years we'd done most of our shopping in little shops where squadrons of flies practised aerobatics over the one choice of sardine, shampoo, soap, bread and sometimes even goat or sheep cheese. We'd bought our vegetables from little Indian women, choosing from their displays lovingly laid out on blankets on the ground. Great fun, but sometimes we'd dreamt of not having to bargain for everything. It's a slow process. Now, these dreams were coming true. Ten choices of sardine, fixed price; twenty choices of shampoo, fixed price; but what to choose? And so many different types of bread! The goodies on the salad vegetable bar looked really fresh. We stood admiring them and then were amazed as artificial thunder rolled, lights flashed and artificial rain fell all over the salad from the 'roof' of the salad bar! When cool air floated out towards us I suddenly realised that I was standing with my mouth open, again… No blanket on the ground here, that's for sure…
---
An hour or so later, as the sun was beginning to fall over the end of the valley, turning the violets, sages and greens of the hills into shadowy dusty reds and oranges, a group of horses appeared. The lead horse, a black, white and brown 'paint', pawed the ground and sniffed the air. We were downwind but perhaps he thought he'd heard us talking to each other. I doubt he could see us but he was on his guard as the other horses, a couple of which were wobbly-legged foals, set to grazing the stream's banks, or to drinking from the gently flowing water. We held our breath. This sight felt like a pure gift. Never had I imagined that we would be sitting in a place such as this, surrounded by wild horses. The now brilliant orange sun made the perfect backdrop as the milling horses kicked up small clouds of dust as they fed and drank. This was the real Wild West as far as I was concerned. The horses did their thing and we sat silently watching their peaceful movements. It was almost as if, to the horses, we weren't there at all. Slowly they began to head downstream, feeding as they went and before long they disappeared into the deep red that the last of the sun had cast over the land. Then suddenly it was night and the stars were appearing above us. We didn't need anything else at that moment. Life was pretty much as perfect as it could get…
---
The guy though, straightened himself up to a good six foot and started to walk towards us across the clumpy sodden grass. He had jet-black hair and at least three days of stubble under his thick black Mexican-style moustache. He seemed to glower at us as his rolling gait brought him closer. At any other time, this walk would have looked gentle and almost lazy, but now it seemed full with measured, dangerous intent. Not a hint of a smile of greeting crossed his face. Had we offended him somehow? Were we too close to his tent, in spite of our best efforts? Birgit disappeared fully into the tent saying, "It's your turn. You talk to him." With that she pulled the flaps shut and left me to face the guy, who was nearly upon us. He stood above me and for a moment stared straight at me with a look that seemed to read danger. I'd heard about American biker gangs and was absolutely certain that this guy was a gang member. I'd no doubt that we were in trouble…
---
The bikes' engines idled as we sat looking at the obstacle. The only thing to do was to 'go for it'. We'd make it or we wouldn't. Neither of us considered that going up would be far easier than going down again. As always, Birgit went first. She gunned her engine a little, as if to make sure it hadn't gone to sleep and was ready for what was to come. Standing on her foot pegs, she eased forward, and then went for it, her eyes fixed on the smoother trail beyond. We'd both learnt by this time that often this is the only way to get through a situation like this.
Pick your route, plan what you are going to try to do, and then focus on the other side leaving the power of the bike and instinct to deal with the problems. With a roar, Sir Henry hit the gully, his back end jiggled furiously and then, bucking, he took Birgit up and through the rocks. Not once did she look as if she was going to fall off. I was impressed, but now it was my turn…
---
Hardly a house, rarely a village, seldom any traffic; what a beautiful road. We were on one of the fabled bikers' highways of Canada. Within minutes of rolling onto it, it had started to live up to its reputation. Just road, forest, flowers, lakes, rivers, bears and a few road repair crews for added diversity. In the distance, craggy peaks, lightly dusted with snow, formed one of nature's perfect backdrops. The curving, dipping surface of the Cassiar Highway eased from asphalt to gravel to short sections of thick glutinous mud. Fun time. Above us, clear blue sky and a sun that warmed our backs as we headed north. Alaska here we come…