How To Order
Click here to order a signed copy direct from Sam.
Tortillas to Totems is also available on Kindle.
Now available – Tortillas to Totems the Audio Book
The Tortillas To Totems audio book is available to download from Audible, iTunes and many other outlets.
Prologue
Have you ever thought about what a 'culture shock' actually is? The Oxford English dictionary says, 'Culture Shock. A disorientation felt by a person subjected to an unfamiliar way of life.' I understood this, didn't I? After all, wasn't this part of the main reason for going travelling on a motorcycle? To experience as many different things and ways of life as possible? To have preconceived ideas challenged? I was happy with these thoughts, but there was something important that I'd not taken into account. After over six years riding the roads of developing countries in Africa, Asia and South America, the next two years exploring some of the developed world were going to be just as a big a learning curve…
Read the full prologue to Tortillas to Totems…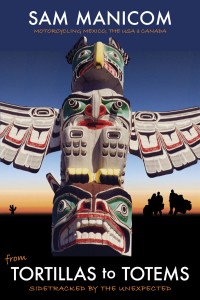 Excerpts
Suddenly, there it was – the border. A straggle of dust-stained and water-marked concrete buildings lined both sides of the road. The mood around us changed with those last few hundred metres. Life swirled in a mash of overloaded trucks, people dashing to get their work done before the day's full heat hit, and the inevitable queues of others, as anxious and as confused by it all as we were. Stray dogs hung around, and greasy- looking overweight unshaven men sat in rickety old chairs in front of seedy bars and restaurants. Pack donkeys and running children added to the mix, and scrawny chickens darted among the feet and the truck tyres – all looking as if they were on the run; escapees from the lunch table, or from the cock-fighting pits?…
Read more excerpts from Tortillas to Totems…
Reviews
Sam is a hugely positive individual… and has a zest for life which really comes across in the book. It's actually really therapeutic reading the book after a hard and mad day at work, you can escape with Sam, unwind and join him on his journey as he discovers new things. Sam has a wonderful way of story telling that enables you to put yourself as his riding partner and paints a vivid picture in your mind of where he is and what he's seeing. The experiences come thick and fast…
Read the first reviews of Tortillas to Totems…
Readers' Feedback
As with Sam's previous books, Tortillas to Totems had me looking for opportunities to get on and read it. True to form it made me wish that I was out there on the road experiencing for myself the places that he and Birgit visited, as a good travel book should.