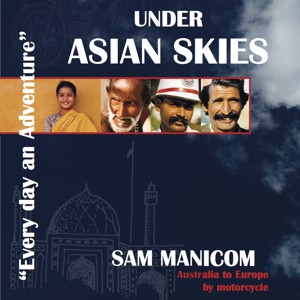 The enthralling story of Sam's three-year adventure from Australia to Europe is now available as an Audio Book.
Overland Magazine Review 'His voice is clear and welcoming as befits a story that is full of honesty, humour and descriptive detail…'
Sam Manicom set off from the UK aiming to spend a year riding the length of Africa on a motorcycle; as told in his first book Into Africa (also available for download as an Audio Book). Sam finds passage on a container ship from South Africa to Australia, and a new adventure begins.
In Sam's second book Under Asian Skies you'll find yourself immersed in an enchanting mix of drama, majesty, laughter, mystery, love and his usual disasters. Sometimes a traveller's plans simply don't work out as intended, but for Sam every mishap is the beginning of a unique adventure; silver linings do exist.
You'll travel on a journey across the vastness of Australia, through the twists and turns of New Zealand, and on up into the exotic lands of South East Asia. You'll ride dusty back roads, ease along rugged dramatic coastlines, and through history and cultures. Work with fruit pickers, sit under the desert stars with a blond-haired aborigine and cross paths with a runaway from the police. How is Sam's life saved by a Thai prostitute? And smugglers? Did he really find relatives in the steamy Sumatran jungle?
Soak up the magical scents and sounds as the journey continues on through India, Nepal, Pakistan and Iran. This heart-warming tale will take you on Himalayan mountain roads and paddling through the orange glow of the dawn on the River Ganges. Meet the people who live in villages little changed since the Middle Ages, and share chai with strangers. You'll explore the dramatic organised chaos of the grand cites of India, and ride the historic Grand Trunk Road.
This is a two-year journey where every day really is an adventure.
Click here to listen to a Sample Chapter
The Under Asian Skies audio book is recorded by Kite Studios Cambridge, and is available to buy from the following retailers:
Media Reviews:
Overland Magazine say, 'He manages to imbue the recording with a sense of remembering each event as it unfolds. His voice is clear and welcoming as befits a story that is full of honesty, humour and descriptive detail where the little events, thoughts and conversations are just as compelling as the pivotal points in the story.' Click Here to read the full review.
South East Biker Magazine say, 'Listen in the bath, on the train or while stuck on the M25 and let Sam's self-narrated story take you off to more exciting places! The production is excellent & Sam's smooth tones capture the moment splendidly. I can thoroughly recommend grabbing a copy of this.'
Overland Live – Australia say, ''Listening to Sam as he reads his adventures out loud had me fascinated with his attention to detail. He briefly mentions writing a journal (as part of his daily routine) and somehow managed to capture huge amounts of detail, mostly around people, places and daily activities… The authors voice is amazingly clear and articulate and his tone and mood wonderfully stylish. His writing is organised and in my opinion, entertaining and informative.' Click Here to read the full review.
Adventure Bike Rider Magazine say, 'Great sound production. The audio book really adds something to the story, even if you've already got the paperback. '
RIDE Magazine awarded 4 stars and say, 'Sam's soft, rich tones and unhurried style perfectly suit his story. He had plenty of mishaps, but has a wonderful way of making it sound like every experience, good or bad, is adding to life's rich tapestry.'
Zen Motorcyclist – USA say, 'Manicom spares no color in painting a real picture of what he sees. Yet, he is also careful to place the picture in a proper historical, social and cultural context, thus removing the gaudy frame of judgment and arrogance so prevalent in the reporting of many of the "traditional" information sources. Manicom's enthusiasm, sense of wonder, and basic humanity really shine through.' Click Here to read the full review.
Overland Holidays.com say, 'Under Asian Skies is engaging, entertaining and easy listening. A perfect driving sound track. Sam Manicom weaves his travel experiences into an interesting and informative story that will leave you a little richer for the experience.'
What are Listeners thinking so far?
'Just finished Under Asian Skies (the audio book version) having the author read his work is a great way to spend a few hours. I thoroughly enjoyed this follow up to Into Africa, which takes up the story in South Africa where Sam is looking for passage to Australia.
A great book which has rekindled my love of travelling. A must for anyone who has a passion for travel and an interest in our fellow travellers.' Jaime – UK
'I don't seem to get the time to do much reading these days but your audio was great to have going in the back ground while I was ordering parts etc for the bikes that I have in the workshop at present. Fascinating & easy listening' Ron – Australia
'All of Sam's audio books are amazing. They're the perfect companion when you're doing miles of boring interstate highway and Sam's wonderful storytelling style puts you "right there"!.' Robert – USA
'I've read your book but this brought it even more alive! hearing you read about the journey adds a whole new layer.' Steve – UK
'I commute each day to work on the train. You've made my journey an interesting place to be.' Bill – UK
'I've just ridden from Denver to San Francisco. Perfect to listen in as I sat on the freeway.' Mikey – USA
This link will take you to the feedback that kind listeners have posted on Audible about Under Asian Skies the Audio Book. I hope you'll be able to agree with them.