How To Order
In the UK? Click here to order a signed copy direct from Sam.
Outside the UK? Click here to order from the Book Depository.
Under Asian Skies is also available on Kindle.
The Audio Book
The audiobook version is available to download from Audible, i-Tunes and many other outlets.
The 2nd Edition
The 2nd Edition of Under Asian Skies has been released with a new vibrant cover, more text, double the number of colour photo pages, and new pages of black and white photos!

I hope you enjoy the journey across this amazing part of the world. Three years, three continents, two wheels.
Prologue
There's a magical, captivating, buzz about being on the road under Asian skies.As I motorcycled across the continents, I was constantly challenged by things I'd never dreamt could happen. Things I thought I knew well were changed by the adventures…
Read the full prologue to Under Asian Skies…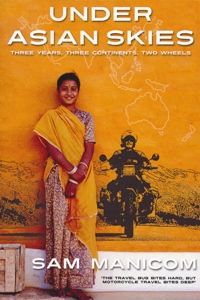 Excerpts
… the blue van smashed into the bike from the left. It hurled us across to the central reservation, and I ended up wedged under the bike with petrol pouring out of the carburettors onto my legs…. On the other side of the reservation cars sped past, just by my head. I could hear them and feel their draft, but trapped under the bike I couldn't twist enough to see them or get further away. The first three people to get to me roared up on bikes. They were Australian Hell's Angels…
Read more excerpts from Under Asian Skies…
Reviews
… this fascinating adventure story by a man well and truly bitten by the world motorcycle travel bug… What sets this book apart is the detail in the narrative… It's the positive human relationships that make this story…. This book will undoubtedly inspire some to follow in his tracks and is essential reading for anyone contemplating such a journey…
Read more reviews of Under Asian Skies…
Readers' Feedback
I just wanted to say what an excellent book this was. Enhanced by the fact that I was lucky enough to be reading it whilst in Thailand I think. Unfortunately I won't be in Africa to read the other book I've just ordered from you. Anyway, thank you, its opened my eyes and given me the push I needed, as I'm hopefully heading off back to Asia in months time and then with any luck Australia and NZ.