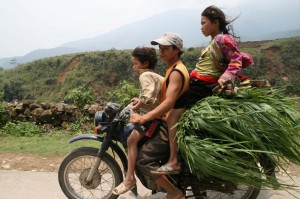 By now I hope you've read the first three parts of this series. If you have, then you'll be ready for some facts about Vietnam and travelling there.
Vietnam the Country
Population is just under 87 million
Bordered by China, Laos and Cambodia
331,690 sq km – 58 provinces
Time is +7 hours GMT
The Roman alphabet is used
Best times to visit
It's a long thin country and the weather in the north has a very different pattern to the south.
The mountains in the Centre and North confuse the patterns.
Tropical in South. Monsoonal in the North – 2 monsoons per year.
November to February is best for just the south but cold and misty in the north.
July to November is the worst period in the north.
Late March, April and early May is the best period to visit if you want to travel the length of the country.
Visas
Download the application from the Vietnamese Embassy in London. This info is applicable at the time of writing.
Pay by cash, postal order or bank draft
A 30 day single entry visa costs £38 plus postage of £8
A 30 day multiple entry visa costs £70 plus postage of £8
Processing time when there are not national Vietnamese holidays is 5 working days.
You'll need your passport with a minimum of six clear month's validity at the time you intend to enter the country, and one recent passport photo.
You can also apply for your visa on entry – bit too risky?
You must be very precise about your entry and exit dates.
Maps and Guide Books
'Reise – Know How' maps are the best we came across. One for the north, and one for the Centre and South. £7.75 Good road maps and don't rip easily.
Be warned though, as with most maps for Vietnam, not all roads are marked, even main roads.
If you have time, track down the Cartographic office in Hanoi – 85 Nguyen Chi Thanh, it's behind the Fortuna Hotel in the Ba Dinh District.
Guidebooks strongly recommend the Vietnam Administrative Atlas by Ban Do. You can buy this in good book shops in both Hanoi and Saigon. Good for city and town maps in particular.
Both Lonely Planets and Rough Guide do guide books for Vietnam.
Getting there
Flights vary tremendously according to what is going on in both our holiday calendar and that of the country itself. Check really careful on this for good deals. Avoiding the holidays is the key.
You can (at the time of writing) pay around £300 if you look hard and plan well but can expect to pay between £600 and £800 for split city, return flight.
All the major airlines or their partners fly there.
Thai can be one of the cheapest, using Bangkok as its hub. Also try Malaysia which uses Kuala Lumpur as the hub.
Travel Insurance
Don't skimp on this!
The local hospitals are not what you or I are used to.
Many people fly to Thailand to get treated there.
Make sure your policy covers you for repatriation and of course for riding bikes.
Contact Mr Cuong
Cuong Motorbike Adventure
Buy, Sell, Repair, Rent
1 Luong Ngoc Quyen Street
Old Town, Hanoi
cuongminsk@yahoo.com
Minsk Owners Club
Motorcycle Touring Companies
Are you legal to ride a bike in Vietnam?
Technically, no you aren't unless you have a Vietnamese motorcycle licence. That is almost impossible to get if you aren't living in Vietnam.
However, if you have a full UK Motorcycle licence and have an international licence to back it up you'll almost certainly be ok.
The real time situation is that the police are highly unlikely to stop you unless you do something daft or dangerous. It seems that they have been told to leave tourists alone. They have been told that they, 'Will be fired and arrested if they try to shake down tourists.' This sort of threat has turned into a catchall which means that tourists on bikes rarely get hassled. Quite rightly, in these times of recession in particular they need our tourist money to come into the country.
You'll get blank expressions if you ask about insurance. You are going to have to wing it but be prepared for the fact that even your UK travel insurance won't cover you for third party liability. It's the risk you take.
Health
You need a full set of typical travel inoculations – your GP can advise, or you can get in touch with the St Pancras Institute of Tropical Medicine. Some of the inoculations you should have require a course of injections over a period of 3 months, so you should check this out well in advance.
Food or waterborne diseases are the main sources of risk. Bacterial diarrhea, hepatitis A, and typhoid fever.
The vectorborne diseases are dengue fever, malaria, Japanese encephalitis, and plague.
And finally the catchable water contact disease is leptospirosis.
The only vaccine required by international regulations is yellow fever but proof of vaccination will only be required if you have visited a country in the yellow-fever zone within the six days prior to entering Vietnam.
Avian Bird Flu is an issue in some areas and Dengue Fever can cause some real problems. The main risk to your health, besides manic traffic, is malaria. However, there are significant chunks of the country that are virtually malaria free – these are mainly in coastal regions but its work checking for the specifics. It's also worth taking the usual care to lower risk of being infected. Spray your clothes with Permethrin. Wear light coloured long sleeve and long leg clothing in the dawn and dusk. Use a mosquito repellent that has a minimum of 50% Deet in the mix. Do take your prophylaxis as advised, but you should be aware that your tablets won't stop you getting malaria – they will just slow down the effects so you can get to help while you are compos mentis!
Its well worth packing waterproof plasters and a small container of disinfectant – it's those small, easy to make cuts that are the ones so often infected fastest.
Should you worry about all of this lot and should they put you off going to Vietnam? Nope. This set of warnings is pretty light for a tropical country and most of the safety factor comes from doing your research and then using common sense.
Food
Vietnam has an amazing reputation for superb cuisine and tucking into the local grub is without doubt one of the highlights of a visit. There are a few cautionary thoughts though. Usually you'd try not to eat anything that has been sitting around and has just been warmed through but many of the soups or Pho is made of ingredients that have been sitting around waiting for you to make your order. With these I think the best way to make a decision is to judge how clean the situation is and to look to see how many locals are eating there. Steer clear of salads and other uncooked vegetables. Try to steer clear of raw meats and fish, though that's not going to be so easy unless you read Vietnamese! Ice is generally ok to have in drinks in the big cities but just don't do it out in the countryside.
One of the reasons that Vietnam has such a large and varied menu is that it's a neighbour of China and over the generations, Vietnam has been occupied by the Chinese on several occasions and one of their legacies is the taste for the more unusual foodstuffs. Some times it's best to concentrate on how the food tastes than what it looks like or may contain. Oh, and if you can't use chop sticks yet, get some practice in. In most places you won't be given a choice of eating utensils.
Also, try to change your mindset about how you order your food. This is another Chinese influence. If there are two of you, order a range of dishes and a couple of extra plates. Then both sample each of the dishes. The Vietnamese have a whole range of customs about eating together and they are really useful to know about in advance – just in case you are lucky enough to get invited to someone's home. Oh, and if that happens, always take a gift and present it with both hands.
In the main there are three regional cuisines – North, South and Central Vietnam. North Vietnamese food is usually simple and is less spicy as compared to the South Vietnamese food and has a Chinese bias. Central Vietnamese food is more spicy so if you like your nosh to have a zing…
Vietnamese cooking is more like an art and there are some restaurants where you are given a virtual cooking lesson with the food being prepared right at your table. It is always beautifully presented.
Cultural customs
The culture of this country is extremely complicated, or perhaps I should say, very alien to Western cultures. It's worth spending some time learning about the rules as simple knowledge will stand you in very good stead. I can't do them justice here, but some of the rules are:
Never touch someone on the head.
If you touch someone on one shoulder make sure you touch the other shoulder too or its bad luck for the person you have touched.
If you need to indicate that someone needs to come to you, or you want to attract their attention, do so with the whole hand and with your palm down. Waving or attracting attention with a finger is considered to be incredibly impolite.
A broad smile can be both a welcome and an apology.
Never lose your temper in public – never even raise your voice. If you hear a local doing so then you can quickly gauge that whatever is going on is of a horrendously dire nature.
Learn the rules of chop stick use – there are several important ones and your hosts will judge you by your knowledge of them.
And yes, you need to avoid displays of affection in public with someone of the opposite sex. We did see both people holding hands though – boys too.
Don't take pictures of anything to do with the police or the military.
The penalty for drug taking is extreme. For once I was only approached once by someone wanting to sell me marijuana – it's the ponytail effect!
Quite simply, this land has so much to offer an adventure traveller. There are plenty of challenges and surprises, but everything is manageable if you have an open and enquiring mind, and love to sample new things. I hope you enjoy as much as we did.