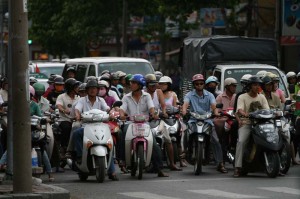 'Vietnam? On a bike? Don't hesitate, just do it! This challenging and exotic tropical country cries out to be explored, and there just isn't a better way to do it than on two wheels. There are so many amazing things to see that you simply revel in having the ability to be in control of your day, well sort of, and having the chance to stop when you want to is the doorway to opportunity.
But how much will it cost you to rent or to buy a bike, and how do you go about it? How much should you budget?' It's easier than you'd think and there are so many options it's almost mind-boggling. So how do you narrow these options down to get the trip that suits you the best? Perhaps you should kick off with which bike to choose.
How about a 125cc Minsk? We asked a lot of questions about these bikes and it seems that you either love 'em or you hate 'em. There are lots of fans though, and to my mind these bikes have character. They will also cope with most roads two up. They will struggle with the higher mountain passes with two Europeans on board but for the rest of the time they seem to be winners. They certainly cope well with the more rugged roads. These mini mechanical workhorses come trail bikes are far more readily available in the north of the country, and to sight one in the south is like seeing a dinosaur on the loose in London.
You can buy a reconditioned Minsk for $400 to $500. Or 'Do Lahs' as you'll often see them written. To rent a Minsk that's in good condition you'll be looking at around $7 a day. At today's exchange rate that's about £5. Not bad, but these bikes should only be chosen if you know your way around a set of spanners, or if you intend to stay in the mountains in the north where mechanical Minsk expertise is more common. They are two-stroke so they need oil adding to the fuel, and as many of the smaller petrol stations surprisingly don't stock oil, you'll need to carry some with you.
There are options where you can buy or rent a Minsk and hire a mechanic to ride with you! Check out Mr Cuong in the Old Quarter in Hanoi. He is incredibly knowledgeable, has a reputation for being completely honest, and the joy is that you can communicate with him in advance (see fact box). That way you can have a good bike ready and waiting for you when you arrive.
Honda Waves and Dreams are for rent all over the place. They will set you back around $5 to $7 a day and you can buy one new for $800, with a bit of bargaining. But why would you want to buy one? In any event, technically it's illegal for foreigners who aren't resident to own a bike, but that doesn't stop people. These Hondas seem to go on forever, and mechanical knowledge is literally around just about every corner. Spares are easily available and really cheap. A tyre for one is around $5. If you can sit a family of six on them, two Europeans and a bit of luggage are no problem at all. Then again, at these rental prices, why not have a bike each!
Because Birgit and I are a little bit perverse and because we like a challenge, we rented 125cc Yamaha Automatic scooters. I'd never ridden one before, they didn't seem at all logical to consider exploring on, and would you take an automatic scooter off road? The bikes cost us $6 a day to rent and to my amazement, other than having extremely hard pillion seats, they did everything we asked them to do. And yes, we took them off road, along jungle tracks, across bridges made of tree branches that my GS would have fallen straight through, over mountain passes, along the ridges between paddy fields, through streams and they were an absolute doddle to ride in the mayhem of city traffic. It did feel odd having no gears to change though. That issue required a rather urgent change of mindset, particularly when off road. If you like to be absolutely in control, the things will drive you dotty.
We tried several bikes before settling on the Yamahas, but I just didn't get on with them at all. Being over six foot, I struggled like mad with the dynamics of the bikes. They are designed for little people and my size tens never seemed to be in the right place at the right time for the gear changes. In fact, one of the bikes made me feel like I was Gulliver on a tricycle! I was getting knee rub from my elbows. The look of horror on the face of the lady hiring the bikes out, when she saw me knees wide out wobbling down the street, was a picture – so Birgit said later. Me? I was too busy trying not to fall off, hit something or get hit by someone, to look in my mirrors. Not that there would be much point in that anyway. The way the mirrors were fixed meant that I'd have been able to pick my teeth or do my eyeliner, but see behind? Who does that!
We took our own open face helmets. We'd heard the stories that if you have a head size L and above, then you just aren't going to find a helmet to fit you. I did consider taking a colander but James May had already been there and done that and I draw a line at being lumbered with a pink helmet! So we hopped down to Lidl and bought a couple with full-face visors and paid just £23 for them. They were perfect and the airline (Malaysia) let us take them as additional hand luggage without extra charge. As it happens, they were far better quality than anything we came across in Vietnam, though the range of options there is enormous – we could have had anything from US Army and Viet Cong pith helmet lookalikes to a bright red ladybird lid! We'd have paid around $10 for the closest we could find to the helmets we'd taken with us, but you can buy helmets for as little as $3.
You can hire helmets from some bike hire shops for a dollar a day but they tend to be pretty battered and I'm not sure if I'd trust that they haven't been dropped by some careless soul. Besides that, the helmets on offer are light enough to be little more help than a poor quality bicycle helmet.
Helmets are more of a fashion statement in Vietnam, though the fine for not wearing one is horribly steep for the locals at $20. Amazingly, many people in Hanoi don't wear them and the police don't seem to do much about it. Tempting for some tourists…
You can get all sorts of accessories to fit the helmets that are available, including cloth covers that turn them into ladies sun hats or jockeys helmets. You can buy sunshades to strap on over your eyes and some helmets even had cut away sides so you can use your mobile phone whilst on the road. And yes, we saw plenty of people riding through the bedlam, shouting down their phones as if their lives depended on the call they were making, and not on having two free hands to steer with.
Other accessories include facemasks and most women wear them. I've no idea if they do any good at stopping the motorbike fuelled smog from assailing the nostrils, but they do mean that you spend your days surrounded by people who may be smiling greetings at you, but you'll never know unless you take your eyes off the road for long enough to see if their eyes are crinkling at the corners. We rode nude and smiling, or perhaps in the early days it was more that our faces held frozen on concentration grins…
A quick tip is to take your own spiral bike locks with you. There are all sorts of scams happening and a good lock will stop some of them. No one else has a copy key and you can lock your bikes to trees and railings. Stuart and Rhianydd had the carburettor nicked from their Minsk in the middle of the night, and it was under the not so watchful gaze of the night watchman! Check out their blog on www.mytb.org/stuartandrhianydd
Far from getting everything right, we made a big mistake. That was to start in the south and to work our way north. We should have done it the other way round. Hanoi is cooler and the traffic, though the city is bigger, is far less dense than Saigon. It would have been much easier to acclimatise to the lesser level of heat if we'd started in the north. Though Hanoi traffic looks pretty intense it's not too bad and the road signs to get out of the city are far better than those of Saigon. That city is a nightmare to start out from in comparison. Hanoi is at the foot of some cooler, must explore mountains, including the highest peak in Vietnam. This means that the north is going to give you a gentler introduction to Vietnam's heat too.
One option that Mr Cuong offers is to rent your bike from him and then pay a premium to have it shipped back to Hanoi by train. You leave a deposit of $300 and pay a fee of $50 for the train expenses. This would save you having to make a round trip. Or you could take the train for the return journey – this would give you a new adventure to play with. We had a go on the railway system and were quite impressed. The track is narrow so the carriages rock and roll a bit, and of course the maintenance levels are nothing like as good as Rail Tracks. But, if you go First Class Air Con Sleeper, it's rather luxurious in comparison to the hard wooden seats and barred windows of third class. But in our terms it still costs buttons – go on treat yourself! We were impressed that most of the staff we needed to talk to could speak a reasonable level of English. A good thing as Vietnamese is hard to learn. The language has a real Chinese aspect to it that means not only do you have to get the word right, but also the intonation. I was always afraid I was ordering a portion of fried caterpillar noodles and not the ice-cold beer I really wanted!
So what about accommodation? There is a wealth of budget hotel accommodation to be found. You can get places to stay within a budget price range of $6 to $20 a night, but you pay for what you get. $20 will usually get you a double room with ensuite facilities, hot water and air con – often you'll have breakfast thrown in too. It'll be clean and the toilet will probably work – unless some idiot tourist has stuck their loo paper down it of course. The sad thing for Vietnam is that the worldwide recession has struck the countries tourist industry really hard. We were told that it's down by over forty percent. Tough times, but for we visitors this means that there are less tourists around and that there are some amazing deals on accommodation to be had – we had fifty percent reductions on some of ours. Oh, and most hotels have a courtyard for you to park in or will let you bring your bikes into the reception area. One other thing, pavements aren't for walking on – you park your bike on 'em and walk in the street!
With the various costs in mind, how much should you budget? Well, that inevitably comes back to what sort of lifestyle you want to have, and how much of the usually excellent lager style beer you want to drink. If there are two of you and you ride a bike each, stay in ok hotels, eat local food from the street stalls where you can see it being cooked, drink a reasonable amount of beer and don't intend to spend any arms and legs on souvenirs, I'd suggest that each of you can have a great holiday for £25 a day, all in. If you have to watch the pennies then you could still have a fun holiday on two wheels for around £15. Going back to souvenirs for a moment, just so you know, the regs say that you aren't allowed to take any historical artefacts or 'savage animals' home with you…
Your £25 will take you through a land that is as close to a motorcycle paradise as you can get. The roads are mostly in good condition, and away from the cities and the main routes you'll often have them virtually to yourself. You'll sample wonderfully tasty food, most of which has no real surprises, though yes you can find a dog or two to eat if you are so inclined. If you are a fan of cashew nuts, then feast on. This is the world's largest producer of them. Oh and it's the worlds second largest exporter of rice, so rice dishes abound. A rice quirk is that the locals far prefer white rice and they export the brown rice to us!
Just hopping back to the subject of money for a moment, you'll be an instant millionaire within moments of landing in Vietnam. Not until then though as it's virtually impossible to get hold of VD or Vietnamese Dong before you enter the country. With the exchange rate being roughly 18,000 Dong to the Dollar, you end up with some huge denomination notes and a big fat wedge of them at that. To our surprise, the moneychangers at the airport had a rate that was only just lower than those in the high street banks. It's well worth stocking up with $50 worth as soon as you land – you are covered for most eventualities then. Another Vietnam quirk is it's accepted that US Do Lahs are a second currency in most tourist destinations. It's a sort of black market that's tolerated by the government. Even though its 'black', don't expect to make a saving by using it. The rates are fairly level, though often you actually pay a little more for using dollars. Be warned, if the deal sounds too good, it's dodgy. To make life easier, most major tourist destinations now have ATM's but you should take Dong with you when you head further afield and make sure you have plenty of small denomination notes or you'll struggle to get change.
Sterling, surprise, is worthless but you'll have more luck with Euros – stay with dollars if you can though. Even so, there's a 'but' here. If you are taking Dollars with you or exchanging for them, whatever you do don't accept anything that looks even remotely dodgy. A slight tear, a hand written number on – as bank staff do sometimes, a crumpled from having got wet, or an ink stained note, just won't be accepted by anyone. They are fanatical about this. They've had their fingers burnt too many times I suppose. Oh and $100 bills are considered to be decidedly dodgy – there are loads of forgeries in circulation. No worries though, adventuring with all these sorts of things is part of the fun of going travelling to strange lands isn't it?
Vietnam will make you feel like you have ridden back in time as your wheels roll you to out of the way villages and farmsteads. You'll cruise through remote and peaceful places with unsurpassed views. You'll be quietly amazed at the open warmth and generosity of the locals – this is not a country where a friendly smile is followed by a begging hand. When you get lost, there's always a helpful biker around to point you in the right direction, or even take you to the right track.
Vietnam's coast is 3,444 kms long and white sand warm turquoise water beaches are not rare. As children of the television age you'll be able to visit such recognisable places as Ha Long bay, the UNESCO Heritage protected site that most of us will have seen under the blades of James Bond's gyrocopter. You'll find China Beach, Da Nang, Nah Trang and Huy. Take a cruise on a riverboat down the Mekong River. You'll be able to meander the ancient cobbled streets of Hoi An and if you've a good head for enclosed spaces then you'll be able to explore some of the famous Viet Cong tunnels.
Is it worth being in Vietnam for just two weeks? Yes, but pick and choose your places to visit and don't try to cover too much ground. If you can manage to escape for three weeks you are on a winner. It's quite reasonable to do a loop up into the mountains in the north and then to ride to Saigon. To rent or to buy? For a normal holiday, rent a bike, either in advance or when you get there – it's easy. Unless you are going to be able to escape for a longer period of time it's not worth the hassle of buying one. Regardless of the legal issues, the fact that you'll have to allow a chunk of time at the end of your trip to be able to sell the thing makes it not worth the bother.
The one other option is to link up with a motorcycle tour company. There are several who have great reputations. Is Vietnam worth visiting? Yes, without a doubt. Is it worth being there on a bike? Emphatically yes, prepare to be amazed. Will your mates in the pub believe every story you tell them when you get back? Probably not, you have to have been there!