Do you find days when you can't help but to have the feeling that things can't get much better, and then the day does. Much better! Today for me is just one of those. I'm hard at work with Kite Studios in Cambridge on the editing stage of my next Audio Book 'Under Asian Skies'. The whole thing is quite a fascinating procedure and yet again I'm thankful that I've been able to get involved with sharing the fun and adventures of world travel.
I've just had two articles accepted by the Italian magazine Motociclismo, and another by Overland magazine. Yesterday I submitted text and shots to Motorcycle News and I'm hard at work on a series of articles for Motorcycle Sport and Leisure.
Life is really buzzing. I've got 3 book signings lined up within the next 4 weeks, and now this happens. I admit to feeling rather stunned! But a little background first.
You have probably heard of Geoff Hill. I've been reading his books for years; these are just some of them. 'The Road to Gobblers Knob', 'Way to Go', and his latest 'In Clancy's Boots'. I've been enthralled and the books have made me smile, a lot. His latest book? Well, if you've not heard of it then check it out now. It's an amazing tale of the first ever round the world motorcycle adventure and I'm so glad that someone of Geoff's ability has taken up and made this story happen.
I met Geoff for the first time when I was book signing at the Motorcycle Live show in the UK at the end of last year. We were both on the Overland Magazine stand. And what a gent he is too; at the end of his book signing stint he told me that he'd like a copy of my first book Into Africa. Of course I offered him a free author-to-author copy. The man refused and insisted on buying a copy – with no discount!
Well, today I find that he has posted a review on Amazon and has been making comments on both Twitter and Facebook. This is what he said on Amazon – see why I'm so pleased?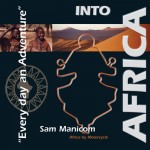 'Intelligent, inquisitive, thoughtful and optimistic, Sam's a natural storyteller with a great turn of phrase, a deft line in self-effacement and a winning sense of humour. The result is one of the great motorbike adventure books which has its roots in the dreams of all bikers; to give up the day job, get on a bike and just go. The difference is that while most dream of the big adventure, Sam actually did it, and in spite of his self-confessed lack of experience, found that with the right spirit, everything is possible, and more importantly, that the big bad world out there is in fact a good place, mostly filled with good, helpful and friendly people. In doing so, I hope he's inspired more people, bikers or not, to turn their dreams into adventures. Well done that man. I've just bought Under Asian Skies, the sequel, and am looking forward to every page as much as I did with Into Africa.'
Actually, when I think back to the time when I first sat down to try to write Into Africa, I had no idea that I could write, and it was just a glimmer of a dream that anyone would like it! My plan was to try something new, with the aim of sharing the fun of the road. And of course I love the idea of readers perhaps thinking, 'If Sam can do this then perhaps so can I.'
I really am delighted with the reviews on Amazon from readers and would like to thank you all for taking the time to post them. For an author who isn't with a mainstream publisher, your reviews help people new to my books to see if they are worth spending their hard earned loot on. To all of you – "Thank you."
Into Africa is available as a paperback, an e-book and also as an Audio Book. I hope you enjoy.