Over the past year we've had loads of requests to do this and when I realised that hardly any adventure motorcycle travel books have been released as audio books, I thought it would be fun to have a go.
This is the first download link to come on line.
So what's it like? To start with it's the completely unabridged version – unlike many of the CD versions of audio books, this is the full story.
'Loads of requests'? Absolutely and they've been from all sorts of people. They've come to me from people who commute to work by car each day, from people heading off on caravan holidays, from motorcyclists who are set up to listen as they ride and from people who just love the idea of listening to a book rather than read it.
There are two other groups of people to add to this list. Blind people relish an adventure too, and what about those people who have the endless battle with dyslexia? I really hope that these two groups will be able to enjoy the adventures of the open road with me.
There's a bit of history attached to the release of the audio book; some of you may remember that we posted sample excerpts from the first chapter on You Tube last year. These excerpts were posted for a couple of reasons. Firstly would there be any real interest, once people could hear how it would sound? And was I the right person to read the book?
The feedback has been great. I hope you agree.
'It's not just the adventure Sam takes us on, but the way he tells it. His style is akin to sitting with a good friend and listening to his travel stories. I so enjoyed the way he described everything he could see, smell and hear in a neat, interesting way that really takes you there, before he whisks you off again.'
We owe a huge debt of thanks to Kite Studio in Cambridge who has taken me through the whole process. It's been a real adventure and a total learning curve. They've been great fun to work with.
Many thanks to Fil Schiannini who has designed the cover.
We very much owe thanks to musicians Al Marconi, Erwin Keiles and friends, plus Two Camels Music. All have very kindly allowed us to use their music to go with the chapters. Some of the music was recorded live in African villages as the villagers sat jamming, drinking beer and making each other laugh. Africa is a fun place to travel; in a major part because of the people.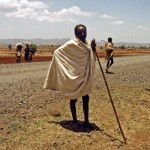 'It's a fantastic story – I felt as if I was with Sam on his adventures. You feel the heat and at the dicey moments I could feel the hair on my arms raise up. At times it's dangerous, very realistic, and so funny in places that tears rolled down my face. Through Sam's descriptions I learnt a lot too, but be warned, this book will have you wanting to hit the road. I highly recommend this to all travellers, young and old.'
I hope you'll enjoy listening to Into Africa and will help by passing the news to your friends. Thanks in advance for that!
The Into Africa audio book is distributed by Open Book Audio and you can buy a copy from:
Ambling Books
The Audio Book Store
Audible.com – an Amazon company
i-Tunes
Duration: 10 hours 47 minutes of on-the-road escape.
ISBN: 978-0-9556573-5-1