Something I love about motorcycling is the people you meet, and something else is the passion motorcyclists have for life and exploring. I generally find bikers a buzz to be around. Yes I know, there are some skuldugerous types but aren't there in all walks of life. Well, the Motorbike Europe guys certainly fall into the former categories. Why am I saying that, and anyway, why should you care? Well, meet some kindred spirits and brain pick like mad. They'll love that!
One of the Motorbike Europe guys and I linked up a short while ago and we got to talking.
MOTORBIKE EUROPE?
So what's it all about? Well, this is a collection of individual motorcyclists with a common passion for exploring the many different features, destinations, and cultural dimensions of Europe. Sounds a bit 'posh'? Read on and you'll see why I'm so interested.
The guys visit interesting locations and search for new experiences, both on, and way off the beaten track, alone or as a group. They then write about what they find, promoting it on their website. The intention is to, hopefully, inspire other motorbike travellers and riders to visit these places, and experience the atmosphere for themselves. One of the things I like about the guys is that they are always open to and in fact looking for suggestions from other travellers. They are hungry for info about places they should visit and experience, and eventually write about on the site.
They have a particular interest in pan-European history and culture, and are slowly working their way through the list of UNESCO World Heritage sites, from Iceland to Istanbul, Cappadocia to Chernobyl, Gibraltar to Nordkapp, visiting places of particular geographical, cultural, historical or mythological significance. Not something that can be done in a hurry, but two wheels with an engine? What a great way to explore.
MOTORBIKE URBEX
Europe's broad industrial heritage is particularly fascinating, and they've used a lot of time, tyres and petrol exploring abandoned and decommissioned industrial sites, such as the Ruhr Valley and other key locations from the Industrial Revolution, scattered across Europe. Dave said, "There's something liberating about riding your motorbike through disused and deserted industrial complexes, underground tunnels, shafts, abandoned mining facilities, and places that are otherwise off limits to the general public. Not that we actively promote this type of intrusion, of course…."
WIDE OPEN SPACES
He told me, "With over 400 national parks adorning the European landscape, the continent offers a seemingly unending wealth of geological features and natural phenomena to ride to, and explore. All types of terrain are represented, from volcanoes in Iceland and islands born out of the sea, to glaciers, mountains, canyons carved into the landscape by flood-rivers, and then islands destroyed by eruptions, thousands of years ago." Nuff said?

ART, ARCHITECTURE, CULTURE, SCULPTURE
Not at all! Dave went on to say, "When ancient pilgrimage and trading routes eventually lead us to towns and cities, it gives us the opportunity to understand and absorb the local urban culture, and visit museums and galleries. You can find yourself face to face with an obscure piece of art or sculpture that you read about once, but never expected to encounter. Leaving the city again, you can find yourself on one of the many great coast roads or mountain routes, which will lead you to your next experience." That collection of thoughts is pretty much enough to make you want to leap on your bike and go, no? And of course, Motorbike Europe will help you do just that.
GEOPOLITICAL EXPLORATION
But Dave had more to say, "The various wars, conflicts and political upheaval that has ravaged, torn and sculpted the ever-changing form of the Europe we know today, provide an unending source of interesting locations, military installations, Cold War fortifications and battle sites, to visit and explore." I asked him why he felt people should bother to visit such places. "Both ancient and modern battlegrounds can give an invaluable insight into the darker capability of humanity, and remind us of what is possible, when all morals, ethics and compassion are abandoned, and the dark side of human nature is allowed to gain a foothold. These places remind us of what should never be allowed to happen again." I couldn't agree more with him. It's very easy to float across the surface of places, as a traveller, but visiting such sites gives you another layer that helps one to keep a perspective. And that ability to balance of course adds another vital layer to a journey.
SOMETIMES EATING AND SLEEPING
Gastronomic attractions such as micro-breweries, whisky distilleries and vineyards are also on the touring menu, and the "Roadfood" you'll encounter, ranges from freeze-dried travel-food around a campfire in the mountains, to other unusual food experiences in famous restaurants, such as 'NOMA' in Copenhagen, or 'elBulli' in Catalonia.
Accommodation on the road ranges from a sleeping bag on a ground mat beside the motorbike, to sleeping in tents or hotel rooms, depending on whether you're blessed with clear skies and warm nights, or heavy rain, snow, hurricanes and gale-force winds.
FINDING INFORMATION AND INSPIRATION
Like most other motorcyclists, the guys from Motorbike Europe attend a lot of motorcycle and touring events and rallies around the continent. Dave says "They are a great way to meet like-minded motorcyclists and exchange stories and information, and an invaluable source of inspiration for where next to travel and explore …and then share with others."
So far so very good, but there has to be a catch doesn't there.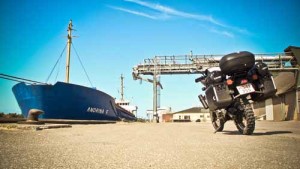 All this information can't be for free can it? Dave explained and all made sense. "To help fund this ongoing adventure, we sell articles and advertising space on motorbikeeurope.com where we can promote anything related to travel and touring, from countries, regions, locations and destinations, to motorbike brands, events, castles, hotels, museums and galleries." Potential sponsors, take note. No one else is doing anything like this, so well. I think the site is going to grow rapidly.
For you and the guys, what's the objective of the site Dave? "The site helps promote Europe and its many interesting destinations to motorcyclists – both in Europe and the rest of the world – that are hungry for new experiences. We live on an incredibly diverse continent that has a huge amount to offer. It's an amazing project to be involved with. I really hope your readers will link up with us. No strings at all, just lots of what we think is very useful information." I've already spent too much time dreaming and planning on this site. But hey, these dreams are possible. These adventures are on our doorstep!
Read more and follow how things progress on: Motorbike Europe Click that link if you haven't already. You are going to find some gems tucked away in here. Enjoy.